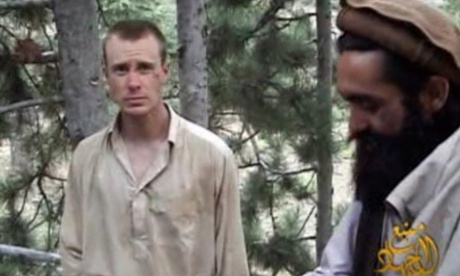 US POW: Bowe Bergdahl



Sergeant Bowe Bergdahl, 28, was held captive for almost five years. Sources told the Associated Press he was in good condition and was able to walk. Bergdahl was on his way to an American military hospital in Germany, a US defence official told Reuters, and was then expected to be transferred to a military medical facility in San Antonio, Texas.

Later, during an appearance in the Rose Garden at the White House with the soldier's parents, Barack Obama welcomed news of the release, saying that while Bergdahl was gone, "he was never forgotten." The president said that the US "does not ever leave our men and women in uniform behind" and that in relation to the five Taliban detainees released, the Qatari government had given assurances it would "put in place measures to protect our national security". The five former Guantánamo detainees have been transferred to the custody of the Qatari government. Their movements will be restricted, according to US government statements.
RECIDIVISM RATES OF RELEASED GITMO DETAINEES: GOING BACK TO TERRORISM
An unclassified version of a September report from the Director of National Intelligence reveals that another five former Guantanamo Bay detainees have either been confirmed as reengaging in terrorism or are suspected of doing so. The report comes just as a judge in Algeria has approved parole of two detainees recently transferred to Algerian custody from the Cuba-based detention facility.
Of the 603 former detainees tracked by US intelligence services, a total of 100 have now been confirmed as reengaging in "terrorism" or "insurgent" activities, while another 74 are suspected of reengaging. This brings the total rate of recidivism to nearly 29 percent, up from 28 percent as of the last report six months ago. Two of the detainees suspected of reengaging in the last six months are among those transferred since President Obama took office in 2009. Of the seventy-four detainees transferred since January 22, 2009, seven are either confirmed or suspected of reengaging, up from five in the prior report, raising the recidivism rate of those transferred during the president's time in office from 7 percent to 10 percent.
The Code of Conduct: All Service men and woman are required to adhere to the Code of Conduct while serving their country to the best of their abilities.
I am an American, fighting in the forces which guard my country and our way of life. I am prepared to give my life in their defense.
I will never surrender of my own free will. If in command, I will never surrender the members of my command while they still have the means to resist.
If I am captured I will continue to resist by all means available. I will make every effort to escape and to aid others to escape. I will accept neither parole nor special favors from the enemy.
If I become a prisoner of war, I will keep faith with my fellow prisoners. I will give no information or take part in any action which might be harmful to my comrades. If I am senior, I will take command. If not, I will obey the lawful orders of those appointed over me and will back them up in every way.
When questioned, should I become a prisoner of war, I am required to give name, rank, service number, and date of birth. I will evade answering further questions to the utmost of my ability. I will make no oral or written statements disloyal to my country and its allies or harmful to their cause.
I will never forget that I am an American, fighting for freedom, responsible for my actions, and dedicated to the principles which made my country free. I will trust in my God and in the United States of America.

POINTS FOR CONSIDERATION:
While there is much we do not know, based on your initial (and unqualified) impressions do you think Sgt. Bergdahl adhered to the Code of Conduct.

WHAT WERE THE CIRCUMSTANCES OF THIS SOLDIER BECOMING A POW? Was he captured in combat or did he abandon his post and walk into his capture?

THIS IS THE FIRST TIME IN US HISTORY AN AMERICAN SERVICE-MEMBER HAS BEEN TRADED FOR TERRORISTS.

THE RELEASE OF PRISONERS FROM GITMO REQUIRES CONGRESSIONAL APPROVAL, NO APPROVAL WAS SOUGHT BY THE COMMANDER IN CHIEF.
PUBLIC SPEAKING ACTIVITY: Tuesday
Without conferring with others, develop a short one minute to one minute and a half impromptu speech voicing your opinion on this situation in class on Tuesday.